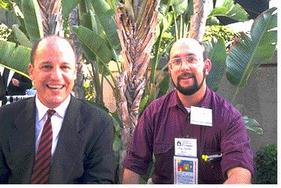 Ira consulting with economist Paul Zane Pilzer
Don't overpay for your home. Be sure you receive a detailed market analysis and review all neighborhood sales before making that offer!
This has been a very difficult market for buyers. Lots of competition, many times homes are selling for significantly over asking price. How much should you offer to improve the odds that your offer is accepted... without paying too much?
We've invested an immense amount of time researching the market...and we have the answers to these questions! We've developed the graphs which show you the relationship between asking and selling price, time on the market, and competition! The proof - our clients consistently get their offers accepted when competing against 3-5 other buyers!
Here's what a Comparative Market Analysis - CMA - looks like. You'll need to download your Free Adobe Acrobat Reader to read it. Our Market Analysis is free... and backed up by our extensive knowlege how the homes compare to one another, market trends, and seller concessions..
Stewart Title Company will sell you a simplified analysis of homes which have sold near the one you're considering. Their Real Estate Comparable Sales site might be worth checking out, though it has limited information, and no data on property condition, market trends, or seller concessions.
Remember....knowing the right price is only one component of a successful home purchase. You'll have a strong advocate on your side when you have Ira & Carol Serkes as your Buyer Broker.