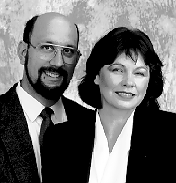 Ira & Carol Serkes
Well, you probably know just about everything about us from our interests, but here's some more.

We enjoy scratching the cats - Gouger has been around for 16 years, Lucy adopted us about a year ago, and Snidely and Beau are fertilizing flowers in the yard. Lucy's parents (Marybeth and Tony and sons) are great, but her brother and sister cats and dogs were bugging her too much.

We really enjoy being with each other, eating out and going to movies (I bet you could tell that from our web site), travelling together, eating spicy foods, riding on steam trains and photographing Art Deco buildings. Carol's British and Ira's Yiddish!, which makes for some interesting times.

We like to travel, and have been focusing on "infill" travelling the past few years - Colorado, New Mexico, Arizona, and off to Utah for the National Rail Historical Society meeting in 1997.

We've been as far west as Mendocino, and have been as far east as Prague, Czechoslovakia.

Carol says that "there's nothing Ira likes more than being in a new city with a bunch of guidebooks and maps" and I'd have to say that she's right. I'm trained as an engineer, and always love reading maps and guidebooks and figuring out how to see 12 hours of sightseeing in 6 hours. That's why I enjoy guidebooks so much.

Ira's a train buff - enjoys riding on trains, taking pictures of them, and listening to the whistles.

Carol has been an avid gardener in the past, but now really enjoys reading.

Ira thinks that any place in the great outdoors is fine as long as it's not more than a mile or two from the car, and within an hour or two from a decent cup of coffee. Our newly found cousin Mimi, on the other hand, is a rock climber, and we had a great time with her in Yosemite (she even climbed Half Dome.) Fran Lebowitz said that "the great outdoors is what you see on your way from the apartment building to the taxi"... I tend to agree.

In the past few months, Ira's been rediscovering his past. Met met Mimi when she called in mid 1996 to say she's in town, and would we like to get together? We said sure, and though I've only seen her once or twice in my life, it was like we'd known each other for years.

In mid November, Ira got an Email from another Serkes, asking if we were related. That inspired me to search on the net to see how many Serkes' I could find. I sent out about a dozen Email messages, and within a day got a call from someone who said we're related! Within a few days, I found another 20 family members I didn't know existed. Wow - the net is amazing!

Ira Serkes, grew up in The Bronx, graduated from The Bronx High School Of Science , received a B.S. in Chemical Engineering from The Cooper Union, and a M.S. in Chemical Engineering from the University of Massachusetts in Amherst. He worked for 10 years as an engineer for Chevron Research, and holds two patents for his research. He teaches Realtors how to use computers to better serve their clients.

Carol Serkes is trained as a para-legal and has been affiliated with one of the Bay Area's largest law firms.